If you're feeling overwhelmed by the amount of stuff you own, you're not alone. Many people in their midlife face the challenge of decluttering and downsizing their homes, whether it's because they want to move to a smaller place, simplify their lifestyle, or just create more space and order in their environment. Grace Rehman wants to come alongside you to provide you with bite-sized tips, emotional and mental support, encouragement, and laughter in between the messy middle as you declutter, downsize, and move. Even if you're not thinking about relocating just yet, these episodes will help you gain momentum to get started with deciding what to keep and what to let go. Decluttering and downsizing can be a daunting task, but it doesn't have to be. As your Home Organizer next door, Grace can help you get started and make the process easier and more enjoyable.
Episodes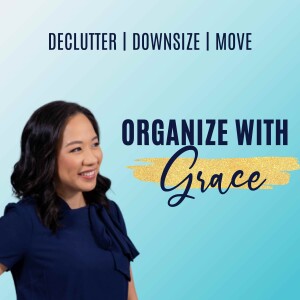 Wednesday Aug 18, 2021
Wednesday Aug 18, 2021
Mama, I see you, sitting on the sidelines, putting everyone else first, yet yearning to know when it will be "my turn" to be happy.
"I will ____ when ____". 
"I will take that dance class when the kids are older."
Have you uttered a statement like that when talking about something that you are interested in doing for yourself that would give you happiness and joy?  I have.  Yet, recently, I'm learning that delaying and denying have only led to resentment and overwhelm. 
In a world that overloads women with guilt, this conversation with Amber Trueblood is my guilt-free gift to you.  My hope is to give you the space to grant yourself the permission to discover what makes you smile and to just do it already!
About my guest, Amber Trueblood:
Amber Trueblood is a licensed therapist, author, podcaster, and mother to four sons. An avid reader and learner, Amber curates courses, workshops, and simple self-care tools for women. Since the 2019 launch of Stretch Marks: A Self-Development Tool for Mothers Who Are Being Stretched in Every Direction, Amber has written and contributed to articles in national publications including O: The Oprah Magazine; Bustle; People; Fatherly; Wedding Wire; MindBodyGreen; Good Housekeeping; and Parade. She's been featured in L.A. Parent and Times of San Diego and provides regular content for both Motherhood Maternity and MamasUncut. Amber has appeared as a featured expert on television stations such as E! Daily Pop, KTLA, and CBS8.  She was recently featured on Good Day LA where she talked about "The Power of Mental Health".
Connect with Amber at www.ambertrueblood.com/ 
Join her Facebook group at: https://www.facebook.com/groups/897670263910999 
Purchase her book on Amazon or wherever books are sold: Stretch Marks: A Self-Development Tool for Mothers Who Are Being Stretched in Every Direction
xo,
Grace Rehman
Organize with Grace