If you're feeling overwhelmed by the amount of stuff you own, you're not alone. Many people in their midlife face the challenge of decluttering and downsizing their homes, whether it's because they want to move to a smaller place, simplify their lifestyle, or just create more space and order in their environment. Grace Rehman wants to come alongside you to provide you with bite-sized tips, emotional and mental support, encouragement, and laughter in between the messy middle as you declutter, downsize, and move. Even if you're not thinking about relocating just yet, these episodes will help you gain momentum to get started with deciding what to keep and what to let go. Decluttering and downsizing can be a daunting task, but it doesn't have to be. As your Home Organizer next door, Grace can help you get started and make the process easier and more enjoyable.
Episodes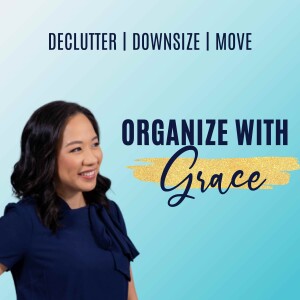 Friday Dec 31, 2021
Friday Dec 31, 2021
Happy New Year Friends!
Today I want to share with you the 5 precious things I want to take with me in 2022.  Often, we think about what we would like to leave behind instead, so I flipped it and made a list of things I want to take with me and I share them with you here:
1. The lessons I learned and my experience with healing from the inside (spiritual, mental, emotional).
2.  The lessons I learned about the 5-week leave-of-absence I took from work due to burnout.
3. Celebrating our 10-year wedding anniversary.
4. More music, more singing!
5. New friends I've met, near and far.
I did include 1 thing that I would like to leave behind: toxic worrying.
What about you, friend, what would you like to take with you into 2022?  What would you like to leave behind?
Email me at grace@organizewithgrace.com and let me know! Would love to hear from you!
Connect with me!
Check out my website:  https://www.organizewithgrace.com/ 
****Make sure you get my TOP 5 "MUST-LISTEN TO" PODCAST LIST when you check out my revamped website! 
Instagram:  https://www.instagram.com/organizewithgrace/
Facebook: https://www.facebook.com/organizewithgracefb/ 
My new favorite Neuroscientist, Dr. Caroline Leaf's book is what I'm currently listening to:
Cleaning Up Your Mental Mess- 5 Simple, Scientifically Proven Steps to Reduce Anxiety, Stress, and Toxic Thinking