If you're feeling overwhelmed by the amount of stuff you own, you're not alone. Many people in their midlife face the challenge of decluttering and downsizing their homes, whether it's because they want to move to a smaller place, simplify their lifestyle, or just create more space and order in their environment. Grace Rehman wants to come alongside you to provide you with bite-sized tips, emotional and mental support, encouragement, and laughter in between the messy middle as you declutter, downsize, and move. Even if you're not thinking about relocating just yet, these episodes will help you gain momentum to get started with deciding what to keep and what to let go. Decluttering and downsizing can be a daunting task, but it doesn't have to be. As your Home Organizer next door, Grace can help you get started and make the process easier and more enjoyable.
Episodes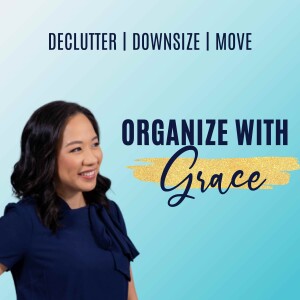 Wednesday Jan 12, 2022
Wednesday Jan 12, 2022
"I have nothing to wear," said all women.
Have you ever felt frustrated and overwhelmed while looking at a cluttered closet full of mismatched pieces as the clock is ticking, reminding you that you will be late for work if you didn't find something to wear in the next 2 minutes? I have, and I am so happy to find a solution to this problem when I came across Jeannie Stith, The Color Guru!
Whether you are still working from home because of the "VID-19" or need to return to work or have returned in person, this episode is for you! With Jeannie's help, we CAN have a wardrobe that is simplified, classic, and beautiful all year long without going broke.
More about Jeannie:
Jeannie Stith is the founder and CEO of Color Guru, where she matches people to their ideal color palette for clothing so that they can look better, simplify clothes shopping, and create a coordinated wardrobe.  Jeannie's color cards have simplified choosing clothing colors for people in 24 countries. Her course, Style Secrets, has transformed hundreds of wardrobes all around the world.  Color Guru has been featured on DesignMom, The Spark Joy Podcast, and Philadelphia Style Magazine.
Jeannie is a mother of two girls and lives in Arden, Delaware. When she's not analyzing her client's photos, you can find her hopping on rocks in the creek with her daughters, salsa dancing, or watering her current collection of 55 house plants.
CHECK IT OUT!
Hey dear listeners!!!  Enjoy 10% off by using my code, GRACE (code is non-case specific so you can even enter "grace" and it will go through), when you order a consultation package at www.yourcolorguru.com
Connect with Jeannie:
Website: https://yourcolorguru.com/
Instagram: https://www.instagram.com/yourcolorguru/
Facebook: https://www.facebook.com/yourcolorguru
Connect with me:
Instagram: https://www.instagram.com/organizewithgrace/