If you're feeling overwhelmed by the amount of stuff you own, you're not alone. Many people in their midlife face the challenge of decluttering and downsizing their homes, whether it's because they want to move to a smaller place, simplify their lifestyle, or just create more space and order in their environment. Grace Rehman wants to come alongside you to provide you with bite-sized tips, emotional and mental support, encouragement, and laughter in between the messy middle as you declutter, downsize, and move. Even if you're not thinking about relocating just yet, these episodes will help you gain momentum to get started with deciding what to keep and what to let go. Decluttering and downsizing can be a daunting task, but it doesn't have to be. As your Home Organizer next door, Grace can help you get started and make the process easier and more enjoyable.
Episodes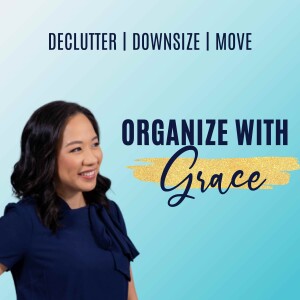 Tuesday Feb 22, 2022
Tuesday Feb 22, 2022
Meet my new online friend, Kayla Beirne, who founded Your Home Reimagined in 2021 with a desire to showcase to homeowners how they can create spaces to maximize their homes for their desired purpose. Coupled with experience in marketing, Kayla uses her creativity and design talents to facilitate the ideal space a client is looking for - and get the best price for it!
Kayla is a trailblazer of many talents and in this episode, she shares with us 3 key questions she asks her clients when helping them create a space that is uniquely their style or to help them stage a home for sale. You can ask yourself these same questions to style your own space but if you get stuck, you can work with Kayla to help you develop your vision and make it a reality!
Follow Kayla on IG: https://www.instagram.com/yourhomereimaginedllc/ 
Kayla's Website: www.yourhomereimaginedllc.com 
Connect with me:  www.organizewithgrace.com
On IG: https://www.instagram.com/organizewithgrace/