If you're feeling overwhelmed by the amount of stuff you own, you're not alone. Many people in their midlife face the challenge of decluttering and downsizing their homes, whether it's because they want to move to a smaller place, simplify their lifestyle, or just create more space and order in their environment. Grace Rehman wants to come alongside you to provide you with bite-sized tips, emotional and mental support, encouragement, and laughter in between the messy middle as you declutter, downsize, and move. Even if you're not thinking about relocating just yet, these episodes will help you gain momentum to get started with deciding what to keep and what to let go. Decluttering and downsizing can be a daunting task, but it doesn't have to be. As your Home Organizer next door, Grace can help you get started and make the process easier and more enjoyable.
Episodes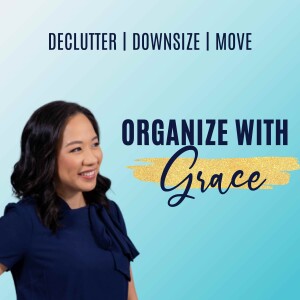 Sunday Apr 24, 2022
Sunday Apr 24, 2022
Friends don't let friends get overtaken by clutter and I'm here for you, friend!
Here are 6 clues for you to help you recognize that you may have a clutter problem.
LET US SAY NO TO CLUTTER TOGETHER!!!
You're invited to an ONLINE 3-day declutter challenge being created just for you! Yes, it will be challenging but it will also be fun because we will do it together!
In honor of Mental Health Awareness Month in May, we will get together to "Minimize to Maximize Your Mental Well-being".
***Mark your calendars! April 29th, 10:00am PST/1:00PM EST
                                       April 30th,  10:00am PST/1:00PM EST
                                       May 1st,     10:00am PST/1:00PM EST
***Email me with the subject line "CHALLENGE" and you will be all signed up! You will get details and reminders onward.
Can't wait to hear from you, friend!
***Click here for the time converter so you don't miss this ONLINE event!
ARE YOU ON FACEBOOK?  Join the private FACEBOOK group by clicking below!
https://www.facebook.com/groups/392147542767604 
Any questions? Message me on the socials!
On IG: https://www.instagram.com/organizewithgrace/