If you're feeling overwhelmed by the amount of stuff you own, you're not alone. Many people in their midlife face the challenge of decluttering and downsizing their homes, whether it's because they want to move to a smaller place, simplify their lifestyle, or just create more space and order in their environment. Grace Rehman wants to come alongside you to provide you with bite-sized tips, emotional and mental support, encouragement, and laughter in between the messy middle as you declutter, downsize, and move. Even if you're not thinking about relocating just yet, these episodes will help you gain momentum to get started with deciding what to keep and what to let go. Decluttering and downsizing can be a daunting task, but it doesn't have to be. As your Home Organizer next door, Grace can help you get started and make the process easier and more enjoyable.
Episodes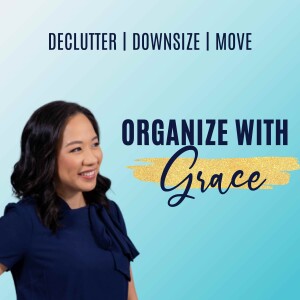 Monday Oct 26, 2020
Monday Oct 26, 2020
It seems that home organization was suddenly a priority at the beginning of March 2020 when the whole world was set on pause due to a deadly virus.  We were stuck at home and for various reasons, many saw that getting organized was a way to spend our time wisely.
It's been about 7 months since then.  Have you maintained what you've organized?  Did you end up putting your projects on hold because life happened?  Feeling guilty that you started something you couldn't finish?  Kick the guilt and listen to this episode where we talk about the easiest way to start again.  If you didn't get a chance to get organized, this episode will help you begin easily!
Resources for you that I mentioned in this episode:
https://www.apartmenttherapy.com/home-organization-pandemic-trend-home-edit-36827645 
https://www.youtube.com/user/OrganizedClutterbug 
Let's connect on IG:  @organizewithgrace and Facebook: @organizewithgracefb
Need organizing help?  Book a free consultation on my website:  www.organizewithgrace.com