If you're feeling overwhelmed by the amount of stuff you own, you're not alone. Many people in their midlife face the challenge of decluttering and downsizing their homes, whether it's because they want to move to a smaller place, simplify their lifestyle, or just create more space and order in their environment. Grace Rehman wants to come alongside you to provide you with bite-sized tips, emotional and mental support, encouragement, and laughter in between the messy middle as you declutter, downsize, and move. Even if you're not thinking about relocating just yet, these episodes will help you gain momentum to get started with deciding what to keep and what to let go. Decluttering and downsizing can be a daunting task, but it doesn't have to be. As your Home Organizer next door, Grace can help you get started and make the process easier and more enjoyable.
Episodes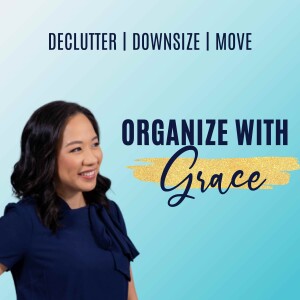 Sunday Aug 02, 2020
Sunday Aug 02, 2020
In this episode I say goodbye to Money Mindset Transformed BUT know that I am not giving up on YOU, my listeners!  It was a tough decision but I feel that I need to be take the time to create a more solid foundation before I am able to bring value in this wonderful online space.
If you feel that you need someone to help guide you through your debt free journey, I'm here for you as your Personal Finance Coach!  Book a free 15 minute consultation with me today to find out if we are a good fit for one another!  
grace@organizewithgrace.com for more information about personal finance coaching.
I am very sad to have to leave Money Mindset Transformed so soon but I feel that it is better to be more focused on creating lasting value for you than going from one project to another and never settling in.  I wish you the very best and I hope that you will continue to keep in touch!
Let's hang out on
Instagram @organizewithgrace
Facebook @organizewithgracefb
grace@organizewithgrace.com for more information about personal finance coaching if you prefer to email me.